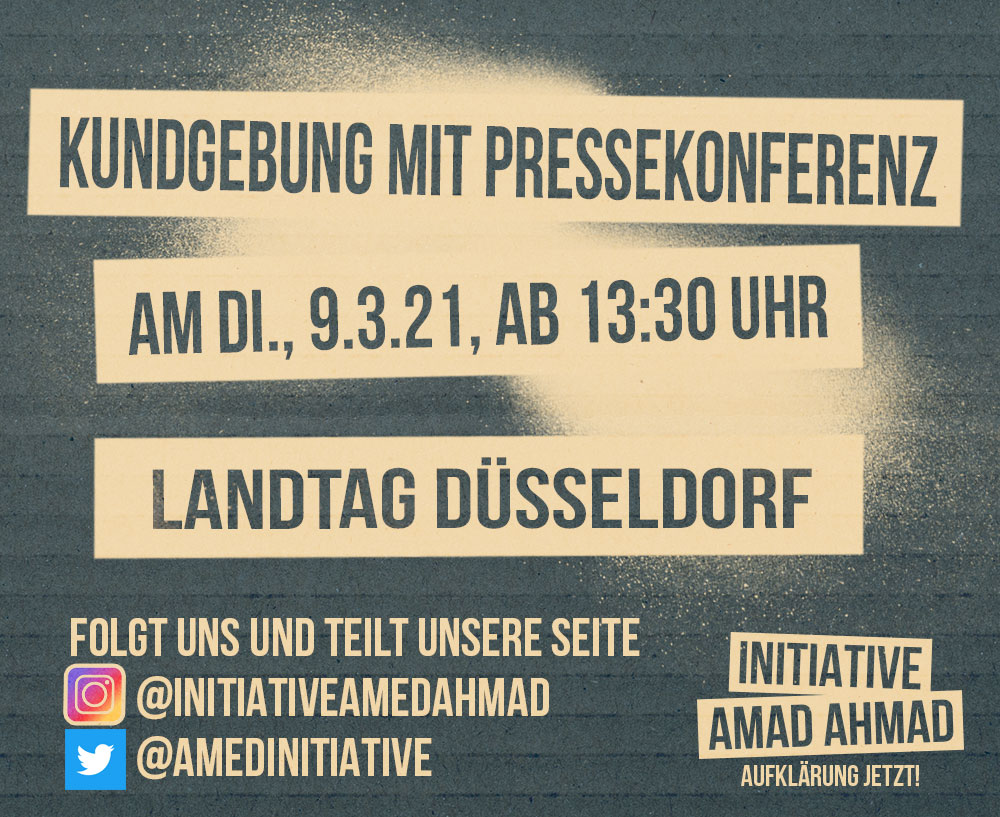 Those who discontinue proceedings on these grounds do not want any clarification. We continue to demand: Truth and justice for Amed Ahmad!
We, as the Amed Ahmad Initiative, call you to a rally on Tuesday, 9 March 2021 from 1:30 pm onwards on the occasion of the 28th session of the Parliamentary Investigation Committee III (Kleve) in front of the Düsseldorf State Parliament. We will not leave the police and judicial scandal surrounding the temporary end of the criminal investigation into the unlawful detention and death of Amed Ahmad without comment.
"Our demands are justice, justice and justice. We will not stop asking for the murderers of our son. We use the word murderer because people killed Amed or caused his death." (Malek and Fadila Ahmad, the parents of Amed Ahmad - in October 2018)
On 4 February 2021, the criminal case against police officer Frank G. was dropped. The public prosecutor's office had previously investigated the police officer from Geldern on suspicion of deprivation of liberty. G. is said to have recognised the detention of Amed Ahmad in the Kleve correctional facility in summer 2018 as a mistake, but then failed to ensure his release. It was also examined whether G. had made himself liable to prosecution for false statements as a witness before the Parliamentary Investigation Committee "Kleve", which is to ensure clarification of the circumstances of Amed Ahmad's detention and death in the state parliament of North Rhine-Westphalia since 2019. Now the public prosecutor's office has discontinued the investigation. They had not been able to provide sufficient evidence that G. had deliberately acted falsely.
"The public prosecutor's office presumably applies different standards to the prosecution of police officers than in normal cases for political reasons. It is absurd to assume only negligence in the case of deprivation of liberty. The police officers acting in this case have accepted the detention of the wrong person," said the lawyers of the Ahmad family, Forst and Reinecke.
As the Amed Ahmad Initiative, which represents the relatives and friends of Amed Ahmad in public, we feel reminded of the arson death of Oury Jalloh, who died 16 years ago in a detention room of the police station in Dessau under as yet unexplained circumstances. As in the struggle for an explanation of Oury Jalloh's death, the family of Amed Ahmad, together with their lawyers, must now fight against the alleged memory lapses of the police and judicial officers and staff of the Kleve district police authority and the prison. And we fear that the "case" will be filed away for lack of will to clear it up and will only be remembered as a "tragic data mishap". But it was the racist structures that became fatal for Amed.
Thus, G. was only investigated after it became known through a press release that G. had been informed about Amed Ahmad's unlawful imprisonment weeks before his death in the JVA Kleve. What is particularly piquant is that G. already "knew" Amed Ahmad at that time, the local authorities in Geldern had him on their radar. We are convinced that the institutional racism of the police and judicial authorities, as well as the racist stigmatisation and criminalisation of Amed Ahmad, as he had to experience it before his detention, is partly responsible for his death on 29 September 2018. Specifically, we name the Geldern District Police Department, the Geldern District Court, the Geldern-Pont and Kleve correctional facilities, the public prosecutors involved, the Geldern Office for Labour and Social Affairs, and the Geldern Department for Regulatory and Commercial Affairs.
Our criticism is also directed at NRW Minister of the Interior Herbert Reul (CDU), Minister of Justice Biesenbach (CDU) and the public prosecutor's offices involved. Neither those politically responsible nor the investigating and judicial authorities are interested in a full investigation into the background of Amed Ahmad's death. Without a consistent investigation, we fear that migrants in particular will continue to fear for their lives in contact with the police officers of the Kleve district police authority and elsewhere. From the beginning, we have asked who will protect us and our children if we cannot rule out that something like this could happen again at any time. We refer to 179 other unsolved cases of deaths in police custody in Germany since 1990, which have been investigated by the "Death in Custody" campaign.
For Tuesday, 9 March 2021, we are organising a rally and a press conference with the parents and friends of Amed Ahmad, the lawyers Forst and Reinecke and the Initiative in Memory of Oury Jalloh on the occasion of the 28th session of the parliamentary committee of enquiry in front of the Düsseldorf state parliament.
We want to come together to accuse the German and also the European asylum system of systematically depriving Amed of his human dignity.
We accuse those who apparently did not care at all about Amed's detention through no fault of his own. Those who did not take him seriously with his contradiction that he was not the wanted man, who knowingly accepted his false detention - or even caused it and covered it up. We accuse those who could have prevented Amed's death and who are talking their way out of responsibility. We accuse those who slandered Amed even after his death. And we accuse those who promised all-encompassing clarification but did not keep their word and did not want to keep it from the beginning.
We accuse a system of dehumanisation and denial of responsibility, we accuse these social conditions that make such a death possible and only create indifference in a large part of the people.
Because we will not stand idly by and watch all this, we demand:
A complete clarification and justice for Amed and for all other victims of racist, patriarchal and anti-Semitic violence. For us, this includes a fundamental recognition of the mechanisms of institutional racism of the police and judicial authorities, but also the racism of the so-called majority society. We emphatically demand that the experiences of those affected, the suffering they have experienced and the loss of a loved one finally be taken seriously. From our indictment must follow the demand for structural changes in the police authorities and consequences for all those responsible. This is also why we demand public places of remembrance and commemoration. Because the people who were killed here were part of this society of the many. And also for this reason we demand that the perspectives, the experiences and the voices of those who have not been heard for too long finally become visible, finally be heard. And all these people who accuse, who have accused, they are not victims - they are fighting for their rights here and now.
They are fighting here and now for their right to be seen and heard - their right to be seen and recognised as human beings.
This is also why we want to come together again and again, exchange ideas and strengthen each other. We want to take our demands for fundamental change to the streets together again and again! We want the many voices of those who have not been taken seriously and overheard for too long to become loud together and finally be heard. And we will not leave anyone alone in this struggle!
We want to raise our voices together for those who can no longer speak for themselves because these racist, patriarchal and anti-Semitic structures have already taken their lives away from them. We want to take hold of our own memories again and at the same time not ignore the diversity of experiences.
That we relate to each other in solidarity and are allies for each other. Because we are human beings - from Kleve, Hanau to Dessau - everywhere.
For a society of the many in solidarity! No one is forgotten!