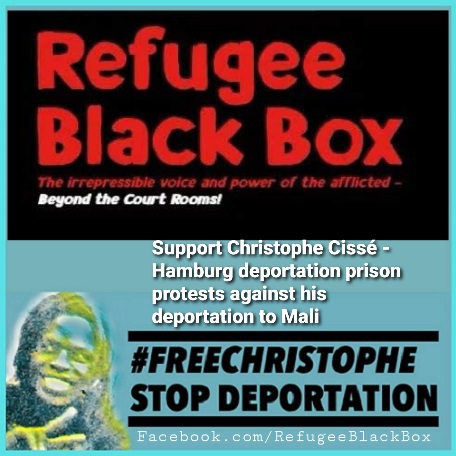 RefugeeBlackBox Solidarity | Free Christophe Cissé – Stop Deportation
Christophe was to be deported today from Hamburg to Mali. Scheduled arrival in Bamako: 23:35.
But Christophe resisted so heavily inside the deportation plane that the deportation was terminated and returned to the deportation prison in Hamburg.
The plane finally took off without him.
RefugeeBlackBox Solidarity | Support to stop the deportation of Christophe Cissé from Hamburg to Mali.
Updated 22.03.21 http://www.thevoiceforum.org/node/4766
Update: Christophe Cissé - Nach Widerstand im Flugzeug ins Abschiebegefängnis zurückgebracht
RefugeeBlackBox Solidarität | Free Christophe Cissé - Stoppt die Abschiebung
Christophe sollte heute von Hamburg nach Mali abgeschoben werden. Geplante Ankunft in Bamako: 23:35 Uhr.
Doch Christophe Cissé leistete im Abschiebeflugzeug so heftigen Widerstand, dass die Abschiebung abgebrochen und Christophe in das Abschiebegefängnis in Hamburg zurückgebracht wurde.
Das Flugzeug hob schließlich ohne ihn ab.
RefugeeBlackBox Solidarität | Unterstützung zum Stopp der Abschiebung von Christophe Cissé von Hamburg nach Mali.
Aktualisiert 22.03.21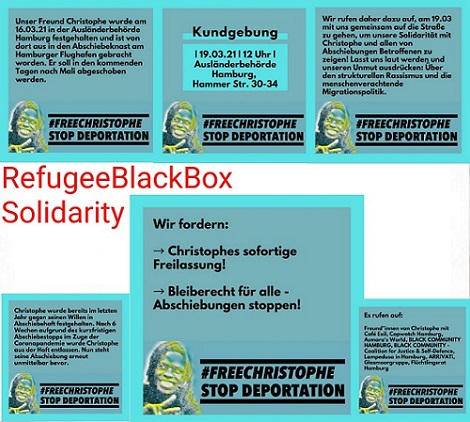 Free Christophe Cissé | Stop Deportation Now!! Rally in Hamburg, 19.03.21
https://www.facebook.com/RefugeeBlackBox
English: An X-ray of Political Solidarity - on the Background of the RefugeeBlackBox Part 1
Francés: Une radiographie de la solidarité politique - sur le fond de la boîte noire des réfugiés Partie 1
Español: Una radiografa de solidaridad politica | RefugeeBlackBox
More Links: RefugeeBlackBox Solidarity