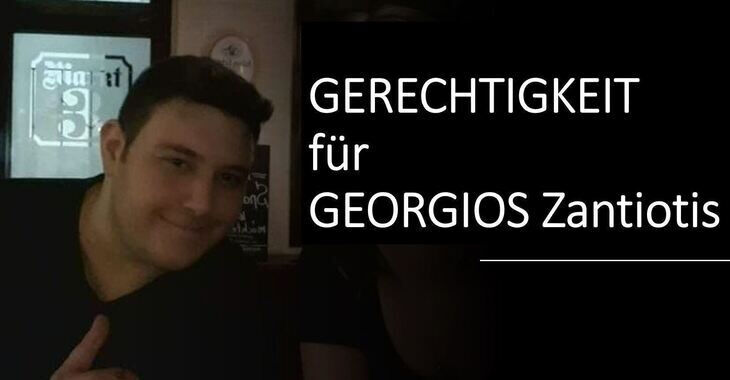 Fundraising campaign to support the Zantiotis family in their fight for truth
Dear people in solidarity
as you may have noticed, Georgios Zantiotis died in Wuppertal police custody on November 1, 2021. However, his death was publicly confirmed by the Wuppertal Public Prosecutor's Office only days later, on November 7, 2021, after the press reported it.
The death of Georgios raises numerous questions. It starts with the description of the detention, the picture-book stereotypical characterizations about migrant men, and a well-known perpetrator-victim reversal.
According to the spokeswoman for the prosecutor's office, the autopsy conducted on Nov. 3, 2021, has so far revealed no evidence of asphyxiation. The "most probable cause of death" of the 25-year-old was a sudden heart attack after the later, involuntary blood withdrawal in the district court. The blood alcohol test showed 0.02 per mille.
The family members ask themselves: Why was Georgios not taken to the police station but to the district court in Wuppertal? What happened before, during and after this blood sample was taken? How likely is it that a 25-year-old with no known history of heart disease would die of a heart attack? Maria, Georgios' sister, has already filed a complaint against the police officers.
The Zantiotis family demands an independent investigation into the circumstances of Georgios' death. Death in police custody is never a private matter and deserves at least the public interest and, above all, a thorough and full investigation into the circumstances of the death. In close consultation with the family, a 2nd autopsy will now be commissioned together with the lawyer. The legal fight for clarification will be a long way. Also for this we call for a donation!
We express our deep sympathy to the relatives of Georgios and promise that we will not leave them alone with their open questions and the search for answers. Visible and practical solidarity is our collective response to structural denial of responsibility.
Show your solidarity and donate to the investigation of Georgios' death!
Every cent will be spent on the costs incurred in connection with the death of Georgios Zantiotis.
The following networks and initiatives support the family in clarifying the circumstances of Georgios Zantiotis' death and this fundraising campaign:
Initiative Amed Ahmad
BLACK COMMUNITY Coalition for Justice & Self-Defense
Initiative Gerechtigkeit für Georgios
Initiative in Gedenken an Oury Jalloh
Justice for Mbobda
CARAVAN for the rights of refugees and migrants